Focus Groups 2018-2019
One of the key initiatives of EC 2018-19 was to broaden the scope of various LMBCS core operations to foster vision 2018-19 – Inclusion, Transparency and Celebration. Creation of various focus groups is one of such many innovative steps, which this team will undertake throughout the year to engage with the community.
BELOW ARE THE MANDATES OF THE FOCUS GROUPS:
Ensure fairness in the decision-making process
Bring Transparency.
Generate new ideas.
Respect organizational objective.
COMMUNICATION FLOW
General members are encouraged to send their suggestion(s) directly to respective focus group(s) using email addresses provided above. Focus groups will collect all the feedback and present the ideas with their recommendation to EC through their respective representatives. Final decision will be made in EC meeting and members will be notified about the outcome. Below is the proposed communication flow: –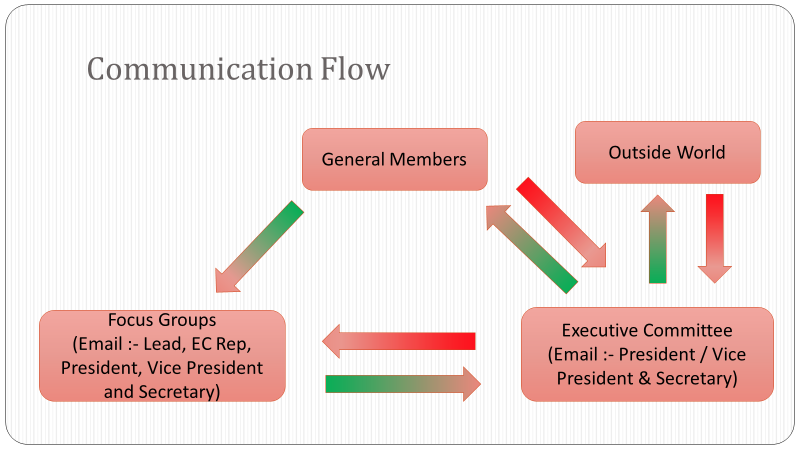 Below are the lists of focus groups, with leads, EC representatives, members. Please note, members can join in any of the focus groups throughout the year as per their availability.
FOCUS GROUP TO MANAGE PUJA ACTIVITIES
Lead: – Supriya Bhattacharyya
EC Representative(s): – Vijoy Chakraborty.
Email id: – [email protected]
FUNCTIONAL AREAS:
STORAGE
Storage Management
Transport
PUJO
Organize Pujo
Puja Shopping
MEMBERS:
Kaberi Ghosh.
Nandini Sen
Indrani Mirta
Jaya Chakraborty
Rupa Chakraborty
Ranu Chakraborty
Sudarshana Ray
FOCUS GROUP FOR BYLAW AND COMPLIANCE:
Lead: – Supriya Bhattacharyya
EC Representative(s): – Binay K Bhattacharyya and Debasish Sanyal
Email Id: – [email protected]
FUNCTIONAL AREAS:
BYLAW
Review bylaw
Prepare documentation
Liaison with BC Registry
COMPLIANCE
CRA
Insurance
Liaison with BC Societies
Health and Safety
MEMBERS
R.P. Ghosh
Prithwish Ghosh.
Amiya Mitra
Bhaskar Bhattacharya
Soumali Ganguly
Amrita Banerjee
FOCUS GROUP FOR FUNDRAISING AND ADVERTISEMENT:
Lead: – Indranil Guha.
EC Representative(s): – Sumanta Das
Email Id: – [email protected]
FUNCTIONAL AREAS:
FUNDRAISING
Brainstorm and execute fundraising operations throughout the year
ADVERTISEMENT
MEMBERS
Binay K Bhattacharyya
Debasish Sanyal
Kaushik Biswas
Soumojit Sarkar
FOCUS GROUP FOR EVENT MANAGEMENT / CULTURAL ACTIVITIES:
This is a broad category. Hence subdivided into three teams with specific goals:
Cultural Activities
Food
Media and Publication
LEAD (S):
Anuradha Mitra – Cultural Activities.
Kasturi Ghosh – Media and Publications
Food – Ananya Sanyal
SUB LEADS:
Cultural Activities: – Paulami Das, Aparajita Chowdhury & Paromita R Roy
Food – Susmita Gupta & Soutomi Kundu
Media and Publications – Sanchita Biswas
EC REPRESENTATIVE(S):
Cultural Activity: Rajesh Chakraborty, Anindo L Roy. Sirsha Guha,
Food: Vijoy Chakraborty, Sujit Chattopadhyay
Media and Publications: Moumita Chakraborty, Soumali Ganguly, Vijoy Chakraborty
FUNCTIONAL AREAS:
CULTURAL PROGRAMS
Rehearsal
Program Format
Musical Instrument
FOOD
EVENT MANAGEMENT
Hall booking
Decoration
Sound system
Setup and Dismantle
MEDIA AND PUBLICATIONS
Facebook posts
Evite and RSVP management
Magazine
Marketing content
Newsletter
MEMBERS:
Kasturi Guha
Rituparna Ghosh
Rupa Chakraborty
Ranu Chakraborty
Shalini Das
Parijat Chattopadhyay
Shyamali Ray
Supriya Bhattacharyya