Sen Family Book Collection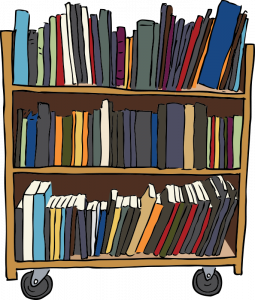 We are thrilled to announce that Dr. Biswanath Sen and Ruby Sen have made their collection of books available to the community. These books were their prized collection, accumulated over the years. We are grateful to the Sen family for sharing this wealth with the community.
Supriya (Moonmoon) Bhattacharya, has kindly agreed to be the custodian of this collection. If you are interested in borrowing the books, please contact Supriya Bhattacharya at [email protected].
List of books:
1. A Tribute to Ma Indira Devi: A Mira Incarnate —Edited by Mihir K. Roy
2. Adbhutananda Prasangay — Swami Sidddhananda
3. Adhyatamsadhanar Marmosandhane (Part 1) — Prangopal Mukhopadhayay
4. Adhyatamsadhanar Marmosandhane (Part 2) — Prangopal Mukhopadhayay
5. Adwaitadwaita Dashakam —Swami Pratyagatmananda Saraswati
6. Amar Ma Anandamayi —Bishuddha
7. Amrita Lahari: Songs — Sri Mohanananda Brahmachari
8. Ananda Jyoti Pitham: Vishnu Sahasranam —Ananadamayi Institute
9. Anandamayi Ma: Jigyasa o Samadhan (Part 1)* —Kali Prasad Roy Choudhury
10. A Man of God —Swami Vividishananda
11. Arsha Vidya: The Vision of the Rishis —Swami Dayananda
12. A Technique of Living: Buddhist Psychology —Leonard A. Bullen
13. Autobiography of a Yogi —Paramhansa Yogananda
14. Banga Basundhara — Shankar
15. Be as You Are: Teachings of Sri Ramana Maharshi —David Godman
16. Belur Mathe Swamijir Durgapuja — Swami Devendrananda
17. Brahma-Sutras —Swami Vireswarananda
18. Brahma-Sutra Bhasya of Sankaracharya — Swami Gambhirananda
19. Chirajagrata Vivekanand —Swami Debandrananda
20. Concise Hindi Dictionary —Bhargava
21. Conquering the Internal Nature: Raja Yoga —Swami Vivekananda
22. Dear Souls, Become Human First — Swami Bhoomananda Tirtha
23. Deshdesher Jalkhabar —Parul Sengupta
24. Devatma Shakti: Devine Power —Swami Vishnu Tirtha
25. Dhyan o Moner Shakti — Swami Vivekananda
26. Dwadash Bhasan —Devotees
27. Geetar Katha (2 copies) —Govindagopal Mukhopadhyay
28. Geeta (4 Mini Books) — XXXXXXXXXX
29. Geetar Gan —Swami Prabhupada
30. Glimpses of a Great Soul —Swami Aseshananda
31. Hanuman Chalisa — Sri Tulsidas
32. Healing Homeopathic Remedies — N. Brunning & C. Weinstein
33. Healthy Values of Living — Swami Tathagatananda
34. How to Know God: The Yoga Aphorisms of Patanjali —Swami Pravananda
35. Human Values in Jainism —Nina Khajuria
36. Invitation To Holy Company —Swami Janatmananda
37. Isha Upanishad —Sankaracharya
38. Jagrihi —Sri Abhay
39. Jamuna Devi: Bhab o Bhabana —Nirmalendu Bhattacharya
40. Kali The Mother —Sister Nivedita
42. Ma Anandamayi —Devotees
43. Ma Anandamayi'r Katha —Abhay
44. Mahabharat: Vyas —Rajsekhar Basu
45. Mahajan- Sangbad —Govindagopal Mukhopadhayay
46. Mantrapushpam —Swami Devarupananda
47. Matrisannidhye — Swami Ishanananda
48. Meditation and Its Methods — Swami Vivekananda
49. Nearer Heaven Than Earth: Bosi Sen & G. Emerson Sen — G. N. Mehra
50. Pancha Janya —Gajendrakumar Mitra
51. Pather Sathi (2nd Part)* — Anirban
52. Patralekha —Anirban
53. Practical Spirituality —Swami Lokeswarananda
55. Prarthana o Sangeet —Ramakrishna Mission
56. Principles of Tantra (Part 1) —John Woodroffe
57. Principles of Tantra (Part 2) —John Woodroffe
58. Puja Pranali —Sudin Kumar Mitra
59. Ramakrishna Paramahansa — Swami Lokeswarananda
60. Ramayan Anudhyan —Swami Tathagatananda
61. Rannar Boi — Lila Majumdar & Kamala Chatterjee
62. Sadhan Samar ba Devi Mahatma (1st Part)* — Sri Satyadev
63. Sadhan Samar ba Devi Mahatma (3rd Part) — Sri Satyadev
64. Sakti and Sakta — Sir John Woodroffe
65. Santan Batsala Sri Sri Ma Anandamayi —Narayanananda
67. Selected Works of Acharya Satish Chandra Mukherjee —National Council of Education
68. Shantirupini Sarada —Swami Devedrananda
69. Sri Caitanya-Caritamrta (Volume 3)* — Swami Prabhupada
70. Sri Caitanya-Caritamrta (Volume 5) — Swami Prabhupada
71. Sri Chaitanya Bhagbat —Translated by Mangal Maharaj
72. Srimadbhagavat Geeta —XXXXXX
73. Srimadbhagavat Geeta (Part 1) —Narrated by Swami Prabhupada
74. Srimadbhagavat Geeta (Part 2) —Narrated by Swami Prabhupada
75. Sri Sri Adi Shankarachrya: Bibek Churamani — Narayanananda Tirtha
76. Sri Sri Chaitanya Dev —Swami Saradeshananda
77. Sri Krishner Dambandhan-Leela (2nd & 3rd Part) — Srikrishnananda Das Babajee
78. Srimadvagavatgita (1st Part) —Sahitya Mandir
79. Srimadvagavatgita (2nd Part) —Sahitya Mandir
80. Srimadvagavatgita (3rd Part) —Sahitya Mandir
81. Srimadvagavatgita —Edited by Dhirendra Nath Sengupta
82. Srimadvagavatgita —Edited by Jagadish Chandra Ghosh
83. Sri Sri Anandamayi Mayer Padaprante —Geeta Bhattacharya
84. Sri Sri Mayer Padaprante (Part 1)* —Swami Purnatmananda
85. Sri Sri Mayer Padaprante (Part 3) —Swami Purnatmananda
86. Sri Ramakrishna: The Spiritual Glow — Kamalapada Hati
87. Sri Sri Ramkrishna Kathamrita (Part 1) — Srima Kathita
88. Sri Sri Ramakrishna Kathamrita (Part 2) —XXXXXXXX
89. Sri Sri Ramakrishna Kathamrita (Part 3) —Srima Kathita
90. Sri Sri Ramakrishna Kathamrita (Part 4) —XXXXXXXX
91. Sri Sri Ramakrishna Kathamrita (Part 5) —Srima Kathita
92. Sri Sri Ramkrishna Lila Prasanga (Part 1) —Swami Saradananda
93. Sri Sri Ramkrishna Lila Prasanga (Part 2) —Swami Saradananda
94. Sri Sri Ramkrishna Lila Prasanga —Swami Saradananda
95. Stita-Prajanata or Stable –Mindedness — Swai Bhumananda Tirtha
96. Swami Premeshanandajir Patra-Sankalan (Part 1)* — Edited by Dr. S. Dhar
97. Tantra of The Great Liberation — Arthur Avalon
98. Tapobhumi Narmada (1st Part) —Sailendranarayan Ghoshal Shastri
99. Tapobhumi Narmada (2nd Part) —Sailendranarayan Ghoshal Shastri
100. Tapobhumi Narmada (3rd Part) —Sailendranarayan Ghoshal Shastri
101. Tapobhumi Narmada (4th Part) —Sailendranarayan Ghoshal Shastri
102. Tapobhumi Narmada (5th Part) —Sailendranarayan Ghoshal Shastri
103. Tapobhumi Narmada (6th Part) —Sailendranarayan Ghoshal Shastri
104.Teach Yourself Hindi: A Complete Course for Beginners — R. Snell & S. Weightman
105. Teachings of Lord Chatanya: The Golden Avatara — Swami Prabhupada
106. The Dhammapada —Juan Mascaro
107. The Ganges: A Personal Encounter —Edward Rice
108. The Gospels of Sriramakrishna —XXXXXXXX
109. The life of Shriman-Maharaj Balananda Brahmachari — Saurip Bhattacharya
110. The Practice of the Presence of God —John J. Delaney
111. The Serpent Power: Secret of Tantrik & Shaktic Yoga — A. Avalon & J. Woodroffe
112. The Teachings of Bhagavad Gita —Swami Dayananda
113. The Upanishads: Breath of The Eternal —Swami Prabhavananda
114. Thus Spake Sri Ramakrishna — Swami Suddhasatwananda
115. Tomar Jibonay Lobhi A Jibon: Krishnanusaran — Ghanashyandas Birla
116. Trilingual Dictionary —Sanskrit College
117. Udbodhan: (Centennial Collection) —Editor: Swami Purnatmananda
118. Upanishad Prasanga (2nd Part) — Srimad Anirban
119. Upanishad Prasanga (4th Part)* —Srimad Anirban
120. Valmiki Ramayan —Rajsekhar Bosu
121. Veda: Mimangsha —Anirban
122. Veda Rahasya —Sri Aurobindo
123. Veda Vedanta-Veda Bichintan:Uttar Khanda —Mahanambrata Brahmachari
124.Vedanta: A Simple Introduction —Pravrajika Vrajaprana
125. Vedantic Way of Living — Swami Bhoomananda Tirtha
126. Veder Parichoy — Dr. Jogiraj Bosu
127. Ved Vani: Sadhya o Sadhan Tatwa (1st Part)* — Sri Sri Ram Thakur
128. Vishnusahasranam —From Geeta
129. What is my Duty? —Swami Dayananda
130. Where Angels Walk — Joan Wester Anderson
131. Yoga Psychology —Swami Abhedananda